Customer Service Training for Tech Support
Customer Service Savvy for Technical Professionals
We teach customer service best practices and how to's for successfully supporting users and customers.
In this specialized training, delivered online or on-site, technical professionals will master how to:
Provide more efficient and effective customer support
Communicate more effectively with non-technical end users
Manage customer expectations and priorities
Promote a reputation for consistent excellent service
Sample Training Topics
Set appropriate customer expectations
Communicate more effectively with non-tech customer
Deal professionally with frustrated customers
Deliver bad news diplomatically
Help customers help themselves
Establish credibility and user confidence
Who Will Benefit
Service desk agents, tech support representatives, service desk engineers, field engineers, and anyone who provides technical support to internal or external customers.
Our Process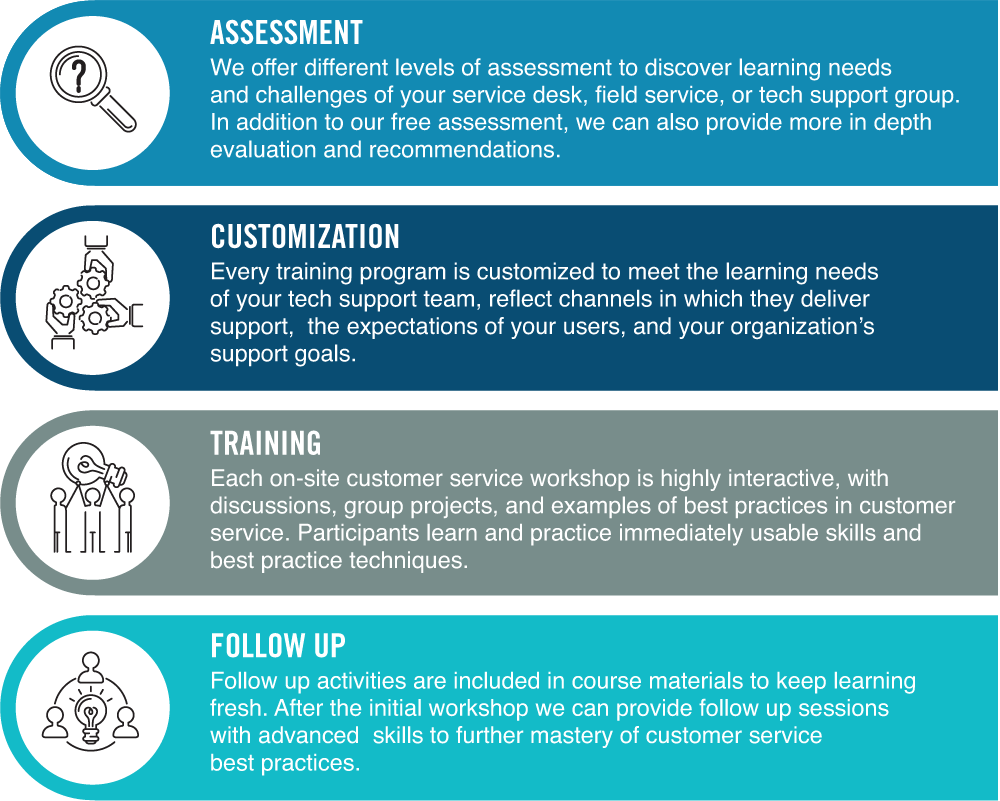 Training available online.
Contact us for training options. Call 415.929.8110 or email@DonnaEarlTraining.com
See more course detail on
Customer Service Training Workshop for Tech Support →
This workshop was the most practical training I've ever attended. You provided tools and techniques to guide calls, defuse their frustration, problem solve, and impress the customer with my customer service skills.
See article
Customer Service Challenges for Tech Support Help Desks →
For additional information phone 415.929.8110 or email@DonnaEarlTraining.com